Maths Home Learning will be sent home a day late this week - ( Friday) It can also be handed in a day late (Wednesday 24th
Well done to all of you who have started 2018 by commenting in the Reading Record. Watch out for details of how you can learn more about helping children read and understand texts when we have a workshop on Friday February 2nd.
This week we have started work on estimating lengths followed by accurate measuring. Thomas and Sasha proved they know what a meter of toilet paper looks like!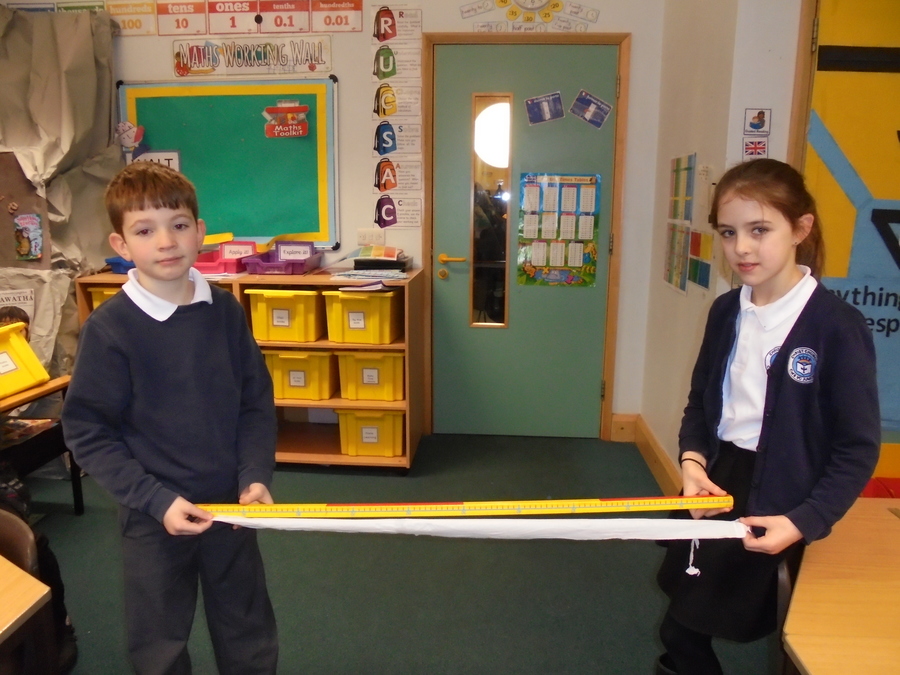 Read all about it!
Find the first edition of our new CCJ newspaper by following this link. We'll post something new every week!
Maths homework - due in Tuesday 16th January
Here is this week's maths homework! You will need a tape measure or a ruler - ask Mrs Elliott if you need to borrow one.
Happy New Year,
I hope 2018 is a happy and healthy one for you all.
Just a couple of reminders.
Our PE lessons are on Monday (outdoor) and Wednesday (indoor). There are two further swimming sessions next week and the week after for those who have been going. Badges will be taken.
Maths Home Learning should come home on a Thursday and be returned on the following Tuesday in order for me to mark / comment. A copy will be posted on the website too.
Well done to everyone who brought in some Home Learning, you can see it on display in our classroom. in the cloakroom and on the Lower Band display boards.
Don't do this at home! We have been learning to use the grid method of multiplication by drawing on the tables.
It is great to see some Home Learning coming in. Remember that it is all due by Friday 8th December.
Another busy week with a theme of Spots and Odd Socks at the start and end! The focus for Anti Bullying week was celebrating difference. All the children who didn't go swimming made the jigsaw below to illustrate that, whilst they are all unique, together they make up Robin class. The whole class looked amazing on Friday for Children In Need. We have also started rehearsals for our Nativity service ( lyrics should have come home). Finally the two pieces of writing below were chosen for our WOW wall- well done Liam and Lilly.
What an exciting week with a visit to 'We the Curious' and our first venture into the Playpod. There were flying carpets, caravans, spaceships, shops and an office to name just a few of the things the children from Robin and Wagtail class created together. They even all joined in the putting away of all the scrap they had used so imaginatively. Great fun!
Last week's WOW work was chosen because the speech was well punctuated and not only was the 'Toolkit' all ticked correctly but the work was well colour coded too. Well Done Thomas.
Maths Home Learning for this week follows what the children have been doing in lessons and is to to do with using the inverse calculation to check an answer is correct.
Check whether the calculation is correct by writing out the inverse calculation using the column method
If the answer is correct write 'right' in the middle column.
If the answer is incorrect write 'wrong' in the middle column and the correct answer in the 3rd column.
This photo shows Kihanna and Elizabeth leading our class service and all the childrenreading our new ibles. The SIAMS inspector joined in our lesson which ended in the forest school area where we burnt slips of paper with something we were sorry for written on them.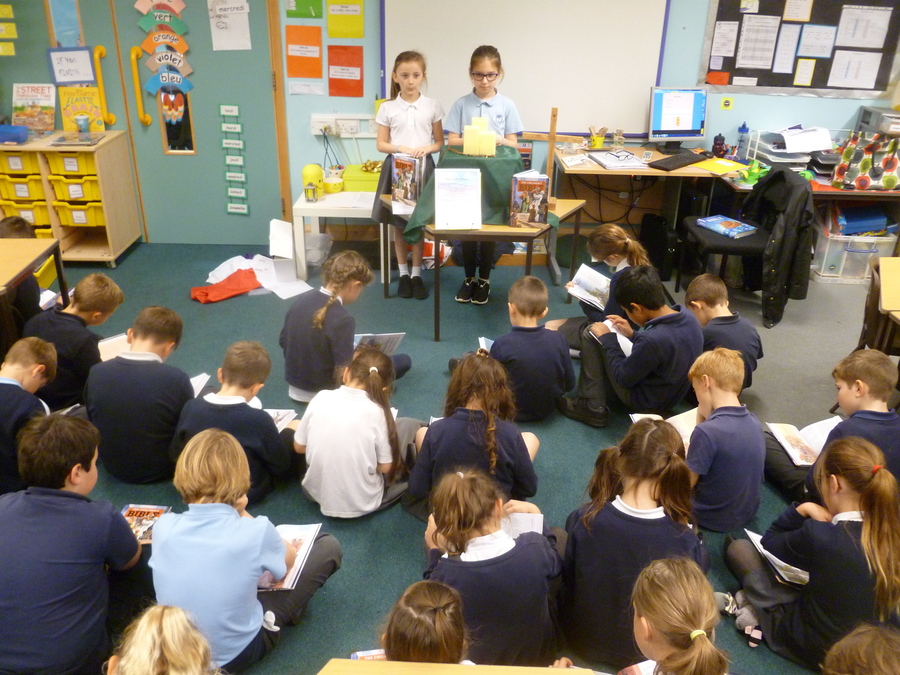 Next week we have an inspection by SIAMS and you should have received a parent survey ( on yellow paper).
Please try to find the time to fill this in. As RE lead I would be especially grateful if you could talk to your children about their experiences of RE lessons. Thank you.
Spellings
Each week, children in the Lower Band are given 10 spellings to learn plus two extra spellings from the statutory list of words that all children should be able to spell by the end of year 4. The children then work together in pairs (spellings buddies, or spuddies!) to see which spellings they can confidently spell and which they still need to work on. All learners are unique and there are a variety of different approaches to learning spellings - what works well for one learner may not work for another and vice versa! Take a look at the document below, which is full of suggestions for different strategies for learning spellings.
Reading in Robin Class
All the children have a yellow reading record which should travel between home and school every day.Please use this to record your child's reading over the week. Your comments will be read and acknowledged on the day they have their Guided Reading session. We also encourage the children to use these books to comment on their reading, which can be a colour coded book from our reading area, a book from our 'Reading Cave' or a book from home. Please note the school library is closed at present as the system is being up graded.
There has been lots of Stone age work this week including today's cave paintings - see the picture below where the children have wriggled into their caves and managed to produce some very authentic looking art work.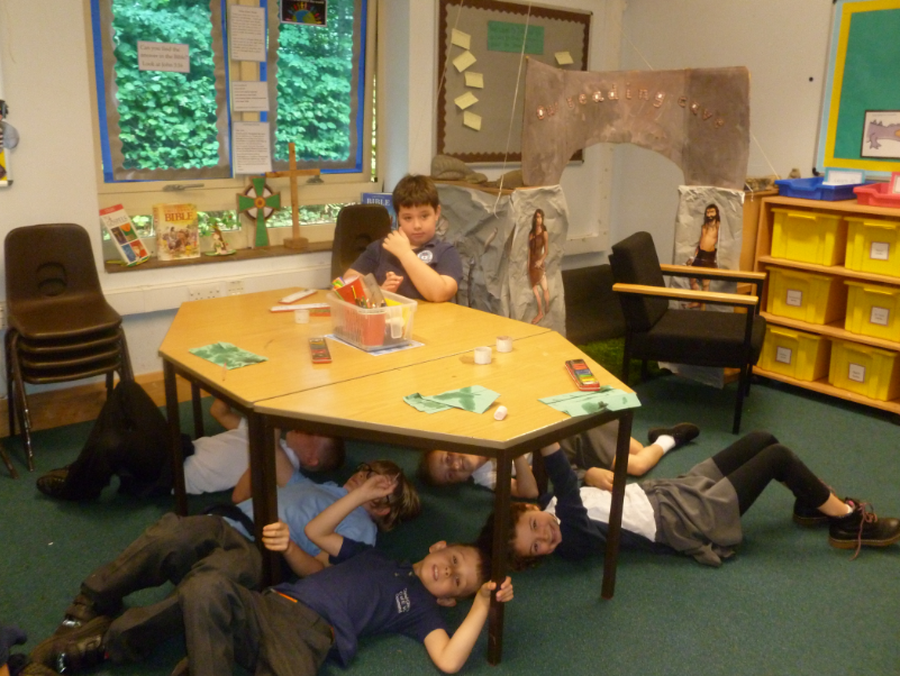 It has certainly been a very busy week.
We have: elected our School Council representatives Joe and Isla.
Our Worship Leaders Elizabeth and Kihanna used the resources in our new Worship Box to set up and help lead class service and our Eco Warriors Reuben and Thomas W have been updating the website daily. Lots of the class are walking,scooting or choosing to park and stride - Well Done!.
Our pebbles have been finished, we painted the red pebbles which represent Love, our value this term - look out for them in the whole school display which will be outside the staff room. We have also written our class charter and a class prayer.
Everyone should have Maths Home Learning, a Reading Record and lots of information on the Home Learning for this term, which includes weekly spelling lists. They should also have their Skoolbo logins so they can play fun maths games at home. Your support with these tasks is appreciated.
Interest Groups started this week and seemed to be enjoyed by everyone,
A reminder that PE is on a Tuesday and a Friday.
I am looking forward to meeting you in the drop in session on Monday, and am usually available at the end of the day if you have any concerns.
Enter text...
The teachers in Robin Class are Mrs Lovell, Mrs Elliott and Mrs Pollock. They have all been teaching for quite a long time!
Mrs Elliott has four children all of whom came to Christ Church Juniors. She enjoys travelling, especially to far away places and was lucky enough to have a whole year away in 2015 -2016. She has a cat called Hendricks, and enjoys reading and cooking.
Mrs Pollock has two German Shepherds named Florrie and Betty and also enjoys volunteering at a rescue sanctuary for dogs. She has two grown up children called Jim and Emily. She often cycles to school- make sure you look out for her on her electric bike!
Mrs Lovell also has two dogs- Dobermans and three children. She loves Indian food and if you hear laughter coming from the staff room it is usually due to her wicked sense of humour.