All children have now been given a log in for the website 'Times Tables Rockstars.' This is a fun website where children can practice their times tables at home. All children have been given their log ins- see Miss Harris if this has been lost! Even if this is not accessible, please encourage your child to practice their times tables (in any shape or form) 3 times a week. This term we are learning our x7 and revising our x9.
Read all about it!
Find the first edition of our new CCJ newspaper by following this link. We'll post something new every week!
This term our new History and Geography topic is all about the Romans. Letters went home in week 1 about the two pieces of Home Learning including the Roman costume and the book project. This home work below is optional and although children are encouraged to learn more about the Romans at home, is not compulsory.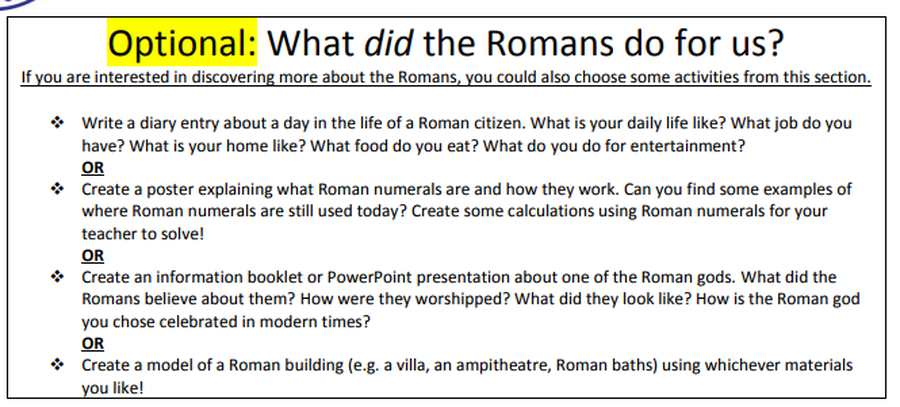 Wagtails really enjoyed making their cinnamon dough Christmas decorations in the last week of term, painting them with acrylic paint and essence of vanilla for a lovely smelling ornament!
4RH have had great fun in Maths today- consolidating our multiplication and division unit by drawing on the tables (don't tell Mrs Osborne!)
I hope every child in Wagtail class has a very lovely Xmas and I look forward to seeing all the children back on the 3rd January. No home learning will be officially sent home but a reminder to practice times tables with the children- especially 6x 8x and 9x with division facts as we will be applying these to area of shapes and fractions next term. This can be done verbally, through shape, time, repetition, fractions (of Xmas sweets) or through problem solving. We will be learning about the Romans and Celts in Term 3 so if families have any books, facts or resources on this topic, then please share these with your child as a great way of introducing them to this topic. See you in 2018! Miss Harris
Term 1 so far...
Wagtail class have gotten used to being back in school for a full week after a brilliant 3 days at Barton Camp. The children completely immersed themselves into all the activities and were great fun to take away.
Home Learning. Maths home learning has been sent home- if copies have not made it home or have gotten lost, please let me know as I have spare copies! Maths home learning is sent home on Thursdays and marked the following Wednesday. All questions are linked to what the children have been learning in lessons and it is hoped the work is manageable independently and consolidates the pupils' learning. Spellings can be practised anyway that suits the individual child and the green book does not need to come back to school every week. Extra homework projects were sent home in week 2 of term. Some pieces that have been brought it are amazing- well done! I look forward to seeing more projects this week!
Spellings
Each week, children in the Lower Band are given 10 spellings to learn plus two extra spellings from the statutory list of words that all children should be able to spell by the end of year 4. The children then work together in pairs (spellings buddies, or spuddies!) to see which spellings they can confidently spell and which they still need to work on. All learners are unique and there are a variety of different approaches to learning spellings - what works well for one learner may not work for another and vice versa! Take a look at the document below, which is full of suggestions for different strategies for learning spellings.
It has certainly been a very busy week.
We have: elected our School Council representatives Bethan and Ben.
Our Worship Leaders Ava and Mathew used the resources in our new Worship box to box to set up and help lead class service and our Eco Warriors Elizabeth and Charlie M have been updating the website daily. Lots of the class are walking,scooting or choosing to park and stride - Well Done!.
Our pebbles have been finished, we painted the red pebbles which represent Love, our value this term - look out for them in the whole school display which will be outside the staff room. We have also written a class prayer.
Everyone should have Maths Home Learning, a Reading Record and lots of information on the Home Learning for this term, which includes weekly spelling lists. They should also have their Skoolbo logins so they can play fun maths games at home.Your support with these tasks is appreciated.
Interest Groups started this week and seemed to be enjoyed by everyone,
A reminder that PE is on a Tuesday and a Friday and children should always have a PE kit in school.
Welcome to Wagtail Class!
Here are the Wagtail's wonderful teaching team- Mrs Pollock, Miss Harris and Mrs Lovell.
Mrs Pollock and Mrs Lovell are highly experienced and valued Teaching assistants here at Christ Church and we are very lucky to have them both working in Year 4.
Mrs Pollock has two German Shepherds named Florrie and Betty and also enjoys volunteering at a rescue sanctuary for dogs. She has two grown up children called Jim and Emily. She often cycles to school- make sure you look out for her on her electric bike!
Mrs Lovell also has two dogs- dobermans- has three children and loves Indian food! Mrs Lovell is known to have a wicked sense of humour and often makes the teaching staff laugh in the staff room!
Miss Harris has been working at Christ Church Juniors as a class teacher since 2011 and has recently enjoyed a few months away travelling around countries including Australia, Fiji and New Zealand. She enjoys playing netball and participating in exercise classes, watching films and eating as much chocolate as she can manage!
All the Year 4 teaching staff are very much looking forward to getting to know the children and working hard to ensure every pupil makes great progress this year.