Comic relief was celebrated in style with everyone dressing in red. Our Y4 entrepreneurs designed and made items to sell to raise more money as part of their unit of work in PSHE.
We are so proud of our Downend Soup group who presented in front of hundreds of people to explain why they wanted to set up their friendship group with the elderly residents of William Court and to explain the impact it has had for both the residents and for them as children.
A group of our pupils have been regularly visiting William Court which is a home for the elderly near our school - they have formed a brilliant relationship and really look forward to visiting.
We were delighted to welcome a Sikh visitor recently, who spoke to every class about what it means to be a Sikh and how it impacts on his life and outlook.
To raise money towards the £15,000 we need to replace the contents inside the library after the flood, we went on a sponsored walk with children, parents, staff and Governors from Bristol city centre past 5 libraries until we reached our own library. We raised a fantastic amount of money!
All our Year 5 children really enjoyed visiting Unit DX laboratories and the Engine Shed in the centre of Bristol - it was a fascinating chance to explore science in 'the real world' and understand about a lot of the current projects happening in Bristol.
As part of our seven wonders of the world topic, Upper Band have been exploring Chinese brush art and aboriginal animal art - the displays look stunning and children have worked so hard to design, refine and create their artwork.
We were so excited to welcome Pudsey Bear to CCJ during Children in Need week, we then dressed up on the Friday and raised over £300 which we sent to CiN to use for good causes.
World Peace Day: every child tied a ribbon onto the tree in the playground to make a promise of peace for our school, our community or our world.
Our Dance Mash Up concert was a great success with pupils from CCI and CCJ performing, led by Karen Davis who runs clubs every week before and after school.
Our Egyptian Museum was a great success with everyone in lower band designing a homework project to share their learning. Thank you so much to all of our lower band children and parents who have worked so hard on all of the fantastic homework projects! Take a look at some of them below...
Year 6 go to PGL each year which is always a fantastic experience for them all. Take a look at some of their experiences below!
We were delighted to finally have our new playground markings installed in March 2019 which has made our playground much more interesting and ensured everyone is moving more. Thank you to the Local Authority and one of our parents for paying the cost between them.
As part of environmental week, every class had a drumming workshop using recycled materials. It was a brilliant way of learning to work together and exploring recycling in a different way.
As part of book week, we asked children to write postcards to the school to share their favourite book and their reasons why they love it. All the staff also did the same and then we heard lots of them during a special assembly.
The author, Amy Wilson, visited recently to share her latest book and give us lots of inspiration and top tips for writing. She even signed books for us!
Every November our Upper Band (Y5/6) complete a mammoth enterprise project where they design and make everything for our Christmas Bazaar. It raises a great deal of money every year and demonstrates the creativity of our pupils!
We were delighted to welcome Kinetic Theatre company to CCJ to share the story of Lady Cecil's Sound Box which gave us an insight into sound and how it works through a Victorian melodrama!
Every year we give our Year 3 children the chance to earn a Blue Peter badge by doing a piece of art, poetry or writing on a subject that inspires them. It means that every child gets a badge that enables them to visit hundreds of places for free.
We were so proud of Elizabeth who represented CCJ in laying a wreath at the Staple Hill remembrance service in Page park.
In October we celebrated Harvest Festival at Christ Church. Our Year 5 pupils led the service, sharing their art, poems, prayers and songs. Rev. Peterson talked to us about our values of love and generosity through the story of Ruth and Boaz. We also donated huge amounts of food and toiletries to the community food bank.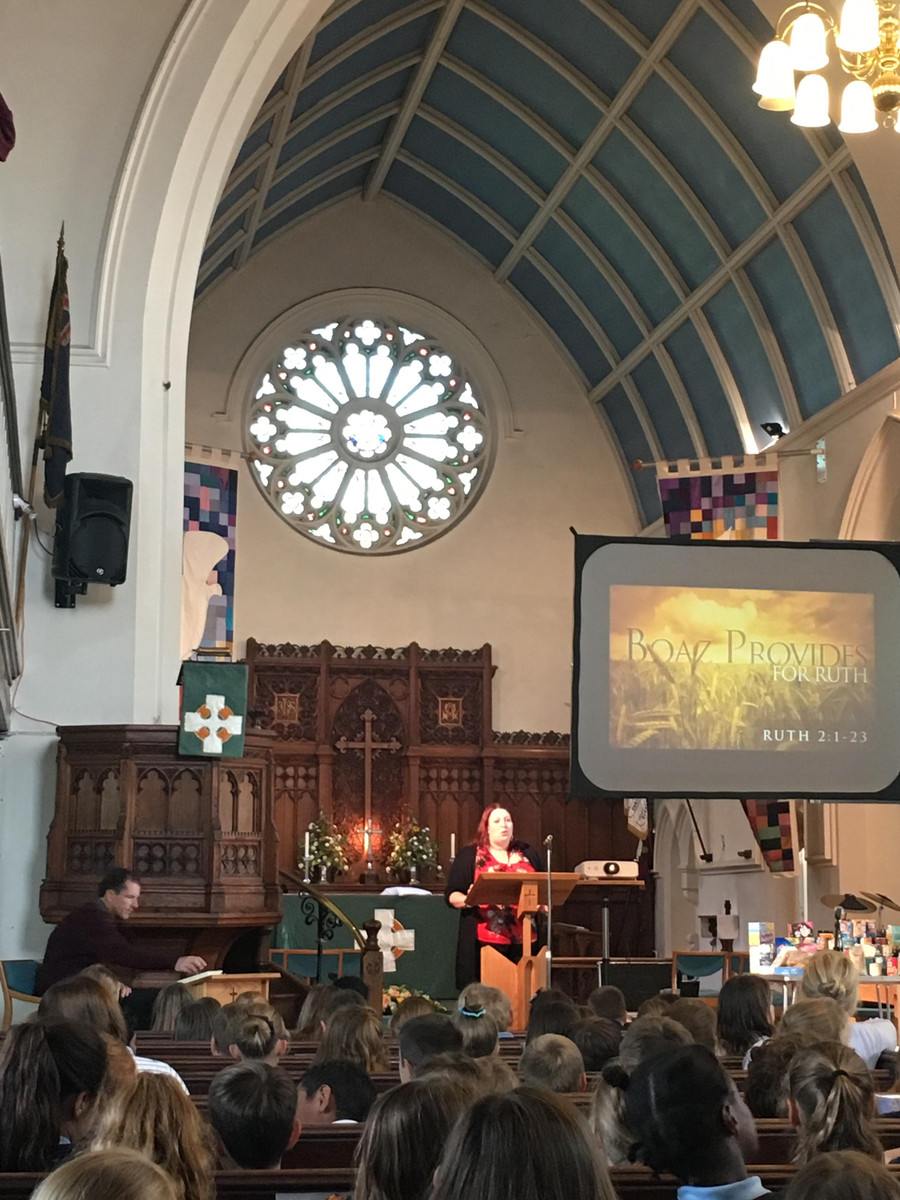 Every year in February or March, we welcome a coffee or chocolate grower from Nicaragua to come and tell us about Fairtrade and why it is important to their lives and community.
We experienced an incredible Virtual Reality day with Google Expeditions and it was amazing - there were gasps and shrieks and laughter from every child in CCJ! We saw how the digestive system works, the planets in our solar system, Christ the Redeemer in Rio and the Northern Lights in Iceland! Phew - we're exhausted!
We love celebrating World Book Day each year and both our staff and parents always get into the spirit of it by dressing up as their favourite book character.