Ethos and Values
At CCJ our ethos is Value, Inspire, Create, Engage. The ethos statements below are the product of a team effort between our staff, school council, governors and parents. It outlines our aims and our hopes for everyone of our pupils. It also links with the four areas of the new SIAMs framework - Wisdom (Engage), Hope (Inspire), Community (Value) and Dignity (Create).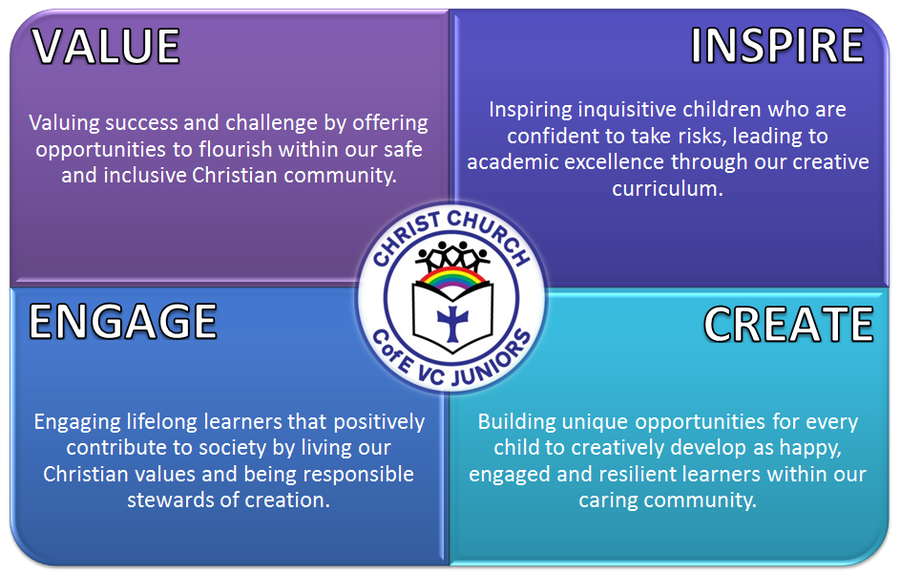 As a Church school, we base our curriculum on our school values which are our Christian values. We have six values, one for each term, which we think about within services, RE teaching, classroom activities and celebration. Our six values are: Love, Humility, Courage, Hope, Forgiveness and Generosity. You can see them on our butterfly display in the entrance, for which every pupil had to design, edit, improve and create their own piece for the artwork. They are also reflected within the six values prayers that our children have written.
The values are closely linked to the work our the Bristol Diocese and the 'Tapestry of Life Abundant' created by Katy Staples. We decided as a primary school to select two values from each stand instead of trying to cover 12.
In September 2017, we collaborated to create another giant art installation through out painted stones and Miss Connor also created a display for the hall to portray the six linked biblical stories that go with each of the values (see below).
We have very close links with our partner Infant school as well as the local Church, Christ Church Downend. In November 2017, the Church moved into our school buildings to continue to worship on Sundays while the Church is renovated and improved. We are delighted to be able to strengthen our links with them in this way. Please do feel free to join the morning worship every Sunday from 10.30am in our school hall.