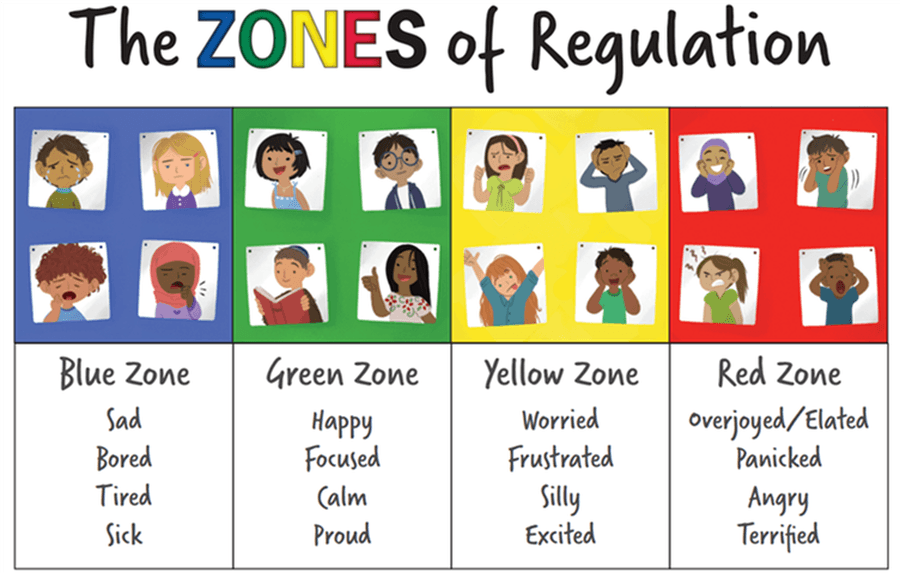 At Christ Church Junior School, we have launched the Zones of Regulation throughout the whole school. We want to teach all of our children a range of coping and regulation strategies so that they can help themselves when they experience anxiety and stress.
All of our children at CCJ are valued and their self-esteem promoted. Our aim is to provide children with the best possible outcomes in preparation for life-long learning. Teaching the children about managing their feelings will support them to be more resilient and more independent in recognising and regulating their feelings. At Christ Church Juniors we use a holistic approach placing the child at the heart of all we do. We believe that introducing the Zones of Regulation will support the children's emotional well – being. Please click on the following link which provides all of the following information for parents on the Zones of Regulation.
What are the Zones of Regulation?
The Zones of Regulation is an internationally-renowned intervention which helps children to manage difficult emotions, known as 'self-regulation'.
Self-regulation can go by many names such as 'self-control', 'impulse management' and 'self-management'. Self-regulation is best described as the best state of alertness for a situation. For example, when your child takes part in a sports game, they would need to have a higher state of alertness than when, for example, they were working on a task in the classroom.
From time to time, all of us (including adults) find it hard to manage strong feelings such as worry, anger, restlessness, fear or tiredness, and this stops us from getting on with our day effectively. Children who feel these emotions often find it hard to learn and concentrate in school. The Zones of Regulation aims to teach children strategies to help them cope with these feelings so they can get back to feeling calm and ready to learn. These coping strategies are called 'self-regulation'.
We aim to help children to:

Recognise when they are in the different Zones and learn how to change or stay in the Zone they are in.

Increase their emotional vocabulary so they can explain how they are feeling.

Recognise when other people are in different Zones, thus developing better empathy.

Develop an insight into what might make them move into the different Zones.

Understand that emotions, sensory experiences such as lack of sleep or hunger and their environment might influence which Zone they are in.

Develop problem-solving skills and resilience

Identify a range of calming and alerting strategies that support them (known as their personal 'toolkit'.)
Please click on the following link which provides an overview of the Zones of Regulation along with additional resources for teaching the Zones. http://www.zonesofregulation.com/
Here at Christ Church Juniors, we are teaching the children that everyone experiences all of the Zones at different times and in different situations. It is vital to understand that all the zones are ok and that there are no 'good' or 'bad' zones.
All of the Zones are expected at one time or another. We are showing them that the Blue Zone, for example, is helpful when you are trying to fall asleep.
The point is to emphasize that when we are dysregulated, we don't need to change Zones, we need to regulate within, manage, or take care of our Zone. This allows us to honor our authentic feelings while meeting the demands of the environment around us, helping us to accomplish our goals, and supporting our well-being.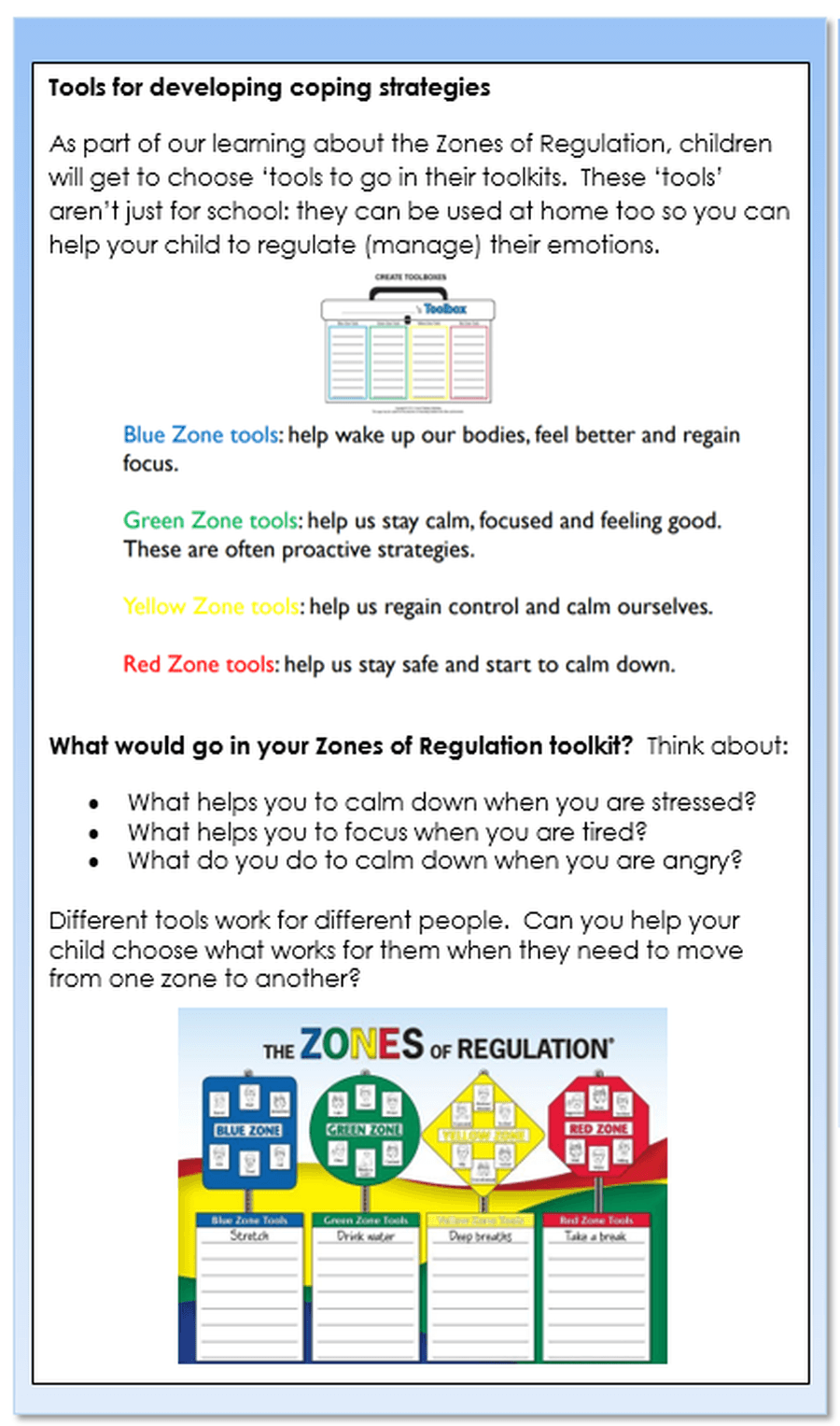 Zones of Regulation tools
Use the link below to explore lots of ideas for helping your child to regulate their emotions including:
Sensory tools

Breathing techniques

Grounding techniques

Calming activities

Thinking techniques